The host antiviral innate immune response protects the host against infection. Like with other viruses, the host recognizes SARS-CoV-2 infection and triggers a series of signaling cascades t...
At the end of 2019, severe acute respiratory syndrome coronavirus 2 (SARS-CoV-2), the causative agent of coronavirus disease 2019 (COVID-19), emerged in China. As of September 2022, SARS-CoV...
In the US, there are about 75 million individuals less than 18 years of age. COVID-19 has had a major impact on the pediatric population, as there have been more than 13.5 million documented...
At the global level, mobility is above pre-COVID levels, and mask use is at the lowest level since mid-March 2020. The move away from social distancing combined with the spread of the BA.5 O...
The COVID-19 pandemic has affected the lives of most Americans. The consequences on the future health of the nation are unknown but likely profound. Well known is the condition known in the ...
As the COVID-19 pandemic continues, SARS-CoV-2 molecular testing continues to play a central role managing patient care and supporting epidemiological studies or developing new anti-virals a...
COVID-19 remains a global health emergency with limited treatment options, lagging vaccine rates, and inadequate healthcare resources in the face of an ongoing calamity. The disease is chara...
SARS-CoV-2 vaccine efficacy testing is now facing increasing challenges in the face of an ongoing pandemic with the emergence of new variants and waning vaccine immunity. Evidence supports t...
MAY 04, 2022 3:00 PM PDT
The severe acute respiratory syndrome coronavirus 2 (SARS-CoV-2) that emerged in late 2019 has spread globally, causing a pandemic of respiratory illness designated coronavirus disease 2019...
MAY 04, 2022 1:30 PM PDT
With an increased need for surveillance in the present COVID-19 environment, saliva has stood out and demonstrated it's performance equivalence to existing sample collection techniques s...
MAY 04, 2022 1:30 PM PDT
Wastewater samples are challenging substrates for nucleic acid extraction, and choice of extraction method will determine the success of downstream analysis. Extraction methods must be able...
MAY 04, 2022 12:00 PM PDT
Since the initial COVID-19 outbreak, the SARS-CoV-2 virus has mutated, resulting in a range of variants. SARS-CoV-2 variants of concern, exemplified most recently with Omicron, need to be de...
MAY 04, 2022 10:30 AM PDT
The coronavirus SARS-CoV-2 has led to a worldwide pandemic. Beside respiratory symptoms, infected people may develop neurologic dysfunctions such as loss of smell and taste, also seizures, a...
MAY 04, 2022 10:30 AM PDT
With over 500 million COVID-19 cases and more than 6 million deaths, the COVID-19 pandemic remains a global health threat maintained by the impact of a changing virus. Emerging SARS-CoV-2 va...
MAY 04, 2022 9:00 AM PDT
The IHME COVID-19 Projection Model has been two years in the making, and this talk will share details on how it works and what it says about our current point in the COVID pandemic as well a...
MAY 04, 2022 7:30 AM PDT
The Sarbecoviruses encodes a large panel of highly heterogeneous, but related zoonotic, epidemic and pandemic coronaviruses that include SARS-CoV and SARS-CoV2, which have been associated wit...
MAY 04, 2022 6:00 AM PDT
The need for next-generation, broadly protective coronavirus vaccines is underscored by the accelerated pace at which human coronaviruses have been emerging, the evolution of the current pan...
During the first year of the SARS-CoV-2 pandemic, international monitoring of SARS-CoV-2 genomic RNA revealed that the virus accumulated roughly 2 mutations per month. Nonetheless, one nonsy...
This presentation will focus on the near- and medium-term future of COVID. COVID will become endemic, but what does this really mean? How will COVID affect longevity in the United States? Wh...
During COVID-19, he has been one of the leaders of institutional and community education around the disease. He has been part of numerous University initiatives including outreach to the Asi...
Diagnostics have never been more important or visible on the world stage as they are today in the midst of the COVID-19 global pandemic. Mara will speak about how COVID diagnostics have been...
Neurological manifestations, including headache, altered mental status, and stroke, are a major complication of severe acute respiratory syndrome coronavirus-2 (SARS-CoV-2) infection and cor...
APR 19, 2022 10:00 AM PDT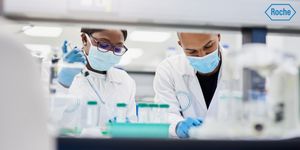 APR 19, 2022 10:00 AM PDT
Date: April 19, 2022 Time: 10:00am (PDT), 1:00pm (EDT), 7:00pm (CEST) Once upon a time, there were three public health labs. These labs were busy serving their states when, out of nowhere, a...
Opens in a new window Opens an external site Opens an external site in a new window