CLOSED SCHOLARSHIPS
PAST WINNERS
Sorry, there are currently no open or upcoming scholarships. Please check again later.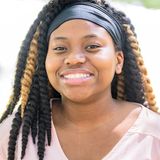 Oluwatoyin Openibo
"I am very thankful to be the recipient of the Fall 2023 Labroot Scholarship. This scholarship allows me to continue in my study with another leg of support along the journey and truly will make a difference in my education. As I continue in my studies, I hope to live up to the expectations and potential seen in all who felt I was the best recipient of this reward. Thank you!"
CALL FOR POSTERS
Posters will be published during the event for which they are submitted and will remain accessible in the virtual environment during the live and on-demand period.

Aishwarya Satheesh-Kumar
Fall 2023 Labroots Undergraduate Back-to-School Scholarship winner
Thank you Labroots for this opportunity! I am honored to receive this scholarship to support me in my journey to becoming a genetic counselor. Equipped with your support and that of my friends, family, mentors, and professors, I happily commit to a lifetime of learning in order to better serve my future patients!

Anvi Surapaneni
Summer 2023 Labroots Research Scholarship winner
I'm so thankful to have received the Labroots scholarship. It truly has allowed me to continue with my research, bridging chemistry with medical applications, and pursue my passions beyond the laboratory. I hope to support STEM education in younger students, carrying the mission of this award forward.

Sterly Pauliscat
Spring 2023 Labroots Travel Scholarship winner
A lot of people say there isn't help out there, but this shows that there is help out there. This scholarship is a blessing for me, and it will help me have a great opportunity for me to explore the world and to know more about the field of engineering.

Ismael Wane
Fall 2022 Labroots Undergraduate Back-to-School Scholarship winner
Being an awardee for the Fall 2022 Labroots Undergraduate Back-to-School scholarship is truly an honor. I believe that education is one of the best investments one can focus on in their lifetime. This scholarship opportunity allows me to continue investing my resources into my education. One day, I hope I am able to give back to young scientists like me.

Lizette Ortega
Fall 2022 Labroots Graduate Research Scholarship winner
I am honored to have received the 2022 Labroots Graduate Research Scholarship. To have my graduate work acknowledged and financially supported is incredibly validating for my identity as a scientist. I want to encourage other first-generation college students interested in STEM to pursue their interests confidently and never be afraid to take up space academia.

Sonia Patel
Summer 2022 Labroots Research Scholarship winner
I am incredibly thrilled to be the 2022 Summer Labroots Research Scholarship recipient. It is a great honor to be selected for this award. It will truly help accelerate my graduate studies and development as a scientist. I am very appreciative of this award and hope to continue my studies to one day give back to the scientific community as well.

Emily Stone
Spring 2022 Labroots Travel Scholarship winner
Scientific progress is achieved only by 'standing on the shoulders of giants', so I am incredibly grateful to the supportive mentors in my scientific career who have pushed me to realize my potential as a scientist. I owe so much thanks to the friends, mentors, department, scientific community, and the team at Labroots for their support of my goal of becoming an independent research scientist.

Lilian Liu
Fall 2021 Labroots Scholarship winner
Dream bigger, go higher, and remember that it takes grit to embark on the journeys that are rewarding but full of obstacles. Look for that silver-lining in the difficulties, learn from the mistakes, and be a better person so that we can help others in need. The only way that we can become "stronger" is by "lifting" others and don't forget to show gratitude to people and things that shape us who we are.

Stone Yang
Summer 2021 Tournament Scholarship winner
I was very proud of both my teams for all their hard work, however, none of this would have been possible without all of the support from the Labroots team. It was only with their help that my team and I were able to have such an amazing experience conducting our research and experiments, and it was with their help that we were able to achieve such high rankings in the Canadian Young Physicists' tournament. My team and I are eternally grateful for all of Labroots' contributions.

Beauty Kolade
Spring 2021 Labroots Scholarship winner
I am very grateful and honored to be a recipient of this scholarship. This scholarship will bring me one step closer to my goals of becoming a pharmacist and researcher. Thank you labroots for your assistance towards my career path and also for being a part of my educational journey. I hope to inspire and serve as a role model to younger generations interested in STEM.

Martina Ysabel Miranda
Fall 2020 LabRoots Scholarship winner
I would like to express my utmost gratitude to everyone at LabRoots for their endless largesse. It is because of these opportunities that I can pursue my goals of being a geneticist and give back to not only my community here in the United States but also have my efforts extend to elevating the quality of STEM education in my home country.

Warren McCarthy
Spring 2020 LabRoots Scholarship winner
I am thrilled to be the recipient of the LabRoots Spring 2020 Scholarship and I can hardly contain my excitement! I would like to express my utmost gratitude to the LabRoots Scholarship board for advocating for my success. I intend to use this very generous scholarship to continue my academic pursuits with aims toward becoming an M.D. PhD in the field of orthopedic surgery. Thank you for helping alleviate the costs of education and again for advocating for my success in my academic pursuits with this scholarship!

Lana Salloum
Fall 2019 LabRoots Scholarship winner
I am extremely grateful to everyone at LabRoots for this award. It is generous people like this that remind me why I have decided to go into healthcare.

Kathryn Waite
Spring 2019 LabRoots Scholarship winner
Hopes are high that I-with deep South sensibility, female-of-color perspective, STEM aptitude, and pharmaceutical sciences aspiration-collaboratively blend with fellow students in a fresh and impactful way that advances schools of thought in the fields of science and health and service.

Jennifer Bradley
FALL 2018 LABROOTS SCHOLARSHIP winner
I want to thank LabRoots for providing this scholarship and a learning community. I am greatly honored to be the recipient in support of my PhD project. I have learned much of science relies on collaboration and mentorship. I still have much to learn from my current mentors and am grateful to have the opportunity for further development. I am hopeful to continue facilitating dialogue with volunteers, undergraduate students, graduate students, post-doctoral scholars, visiting fellows, and employees at the Weil Institute, Virginia Commonwealth University, and scientific meetings I am able to attend as part of my training.

Daniel Andrade
Summer 2018 Textbook Scholarship winner
Winning the scholarship is a great achievement for me. It will be a great opportunity for improving my education in the field of infectious disease epidemiology. Now, I can afford the most recent textbooks about the field that are not available in my country. I'm really grateful to LabRoots for the opportunity.

Faith Robinson
Spring 2018 LabRoots Scholarship winner
My lifelong dream of attending Spelman College is moving forward, thanks to generous educational scholarships like LabRoots. Your investment has inspired me to help others. I hope one day I will be able to help students achieve their goals just as the LabRoots scholarship have helped me.

Reshmi Ranjith
Fall 2017 LabRoots Scholarship winner
Thanks to LabRoots for helping to fund my education. With this scholarship, I will be able to pursue my passion, computer science, with a smaller financial strain. I will continue introducing the wonders of STEM to younger students.

Andrew Ly
Summer 2017 Textbook Scholarship winner
I am incredibly thankful to LabRoots for their support in allowing me to further my studies without financial burden. Using this scholarship, I will continue to pursue not only science but my interest in giving back to the community just as LabRoots has done for me.

Sarah Robbins
Spring 2017 LabRoots Scholarship winner
Thank you so much to LabRoots for this scholarship! As a young scientist, it is so encouraging to have support of the community during my training. I can't wait to share my research with my colleagues at scientific meetings as I continue my graduate studies.