FEB 24, 2021 10:30 AM PST

Image analysis in a real-world situation rarely involves solving a single unchanging problem. Modern tools need to be flexible and adaptable not only to solve todays problems but to support...
FEB 09, 2021 9:00 AM PST
C.E. CREDITS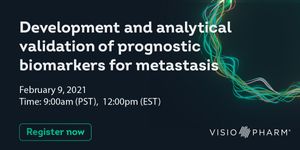 FEB 09, 2021 9:00 AM PST
Date: February 9, 2020 Time: 9:00am (PST), 12:00pm (EST) 90% of breast cancer mortality is caused by distant metastasis, a process that involves both dissemination of cancer cells to distant...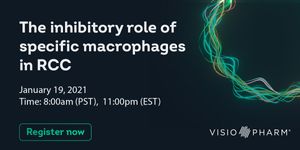 JAN 19, 2021 8:00 AM PST
Date: January 19, 2021 Time: 8:00am (PST), 11:00am (EST) Only a small subset of patients with clear cell Renal Cell Carcinoma (ccRCC) respond to immunotherapy with checkpoint inhibitors. Res...
OCT 07, 2020 1:30 PM PDT
Join Branden Hopkinson, Product Marketing Manager at Visiopharm, who will talk about using AI classifiers to find patterns in your images and which artificial intelligence method will work b...
Opens in a new window Opens an external site Opens an external site in a new window