This presentation will provide a discussion of the thromboembolism risk of COVID-19 and how this plays into laboratory medicine. This will include case based discussions on how different lab...
The International Council for Standardization in Haematology (ICSH) is a nonprofit organization dedicated to providing open-access guidance documents to enhance the quality of laboratory tes...
Rapid access to high quality comprehensive coagulation test results is critical to patient care. In an environment where clinical laboratories constantly experience price and labor pressure,...
This talk will cover different approaches to emergency hemostasis testing for patients that are actively bleeding due to trauma, surgery, obstetrical emergencies and other causes. The talk i...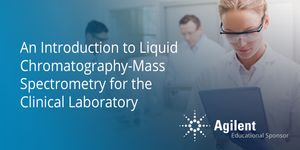 DATE: April 1, 2020 TIME: 8:00am PST The capabilities of liquid chromatography coupled to mass spectrometry make the technology a very attractive tool in clinical laboratory settings. Howeve...
DATE: February 18, 2020 TIME: 8:00am PST...
Opens in a new window
Opens an external site
Opens an external site in a new window