As 'omics research advances, separations data such as chromatograms and nuclear magnetic resonance (NMR) spectra are being used as direct inputs to machine-learning algorithms ranging...
Ice formation is a global issue that poses serious challenges for many applications. Certain species in colder regions of the world have adapted to that climate by producing antifreeze (glyc...
While viral fusion proteins are highly desirable for subunit vaccine generation, their inherent metastable nature complicates implementation and development. We have harnessed the structural...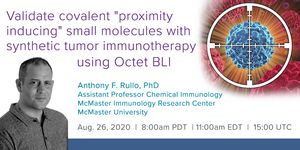 DATE: August 26, 2020 TIME: 8:00 am PDT The host immune "recognition" of cancer forms the basis of modern tumor immmunotherapy, a highly targeted treatment option with the demonstr...
AUG 06, 2020
10:00 AM PDT
Current cancer management follows a multipronged approach that include surgery, radiation, and chemotherapy. There is a pressing need for a platform technology to provide precision chemother...
Carbon dioxide emissions, known to exacerbate climate change, have been increasing rapidly over the past century. One strategy to alleviate this issue is carbon capture and utilization (CCU)...
Opens in a new window
Opens an external site
Opens an external site in a new window