Learning Objectives: 1. Understanding the integral value of collaboration for advancement in scientific research; how to establish and grow academic, Pharma, and industry connections 2. Lear...
Severe Acute Respiratory Syndrome Coronavirus 2 (SARS-CoV-2) is the cause of Coronavirus Disease 2019 (COVID-19) and responsible for the current pandemic. Here, we present an in-depth study...
SEP 17, 2020
11:00 AM PDT
Infectious diseases, such as COVID-19, are challenging to study in animal models due to species differences, and conventional 2D cell-based systems lack the complexity to appropriately model...
PerkinElmer is a global leader in the development of instrumentation and probes for small animal non-invasive imaging, including optical and µCT imaging. Through optical imaging, we ha...
Cancer initiation and virulence depends on mechanisms to evade host immunosurveillance and suppression of early invasion and growth. Distinct phenotypes of the immune infiltrates in and arou...
MAR 24, 2020
10:00 AM PDT
C.E. CREDITS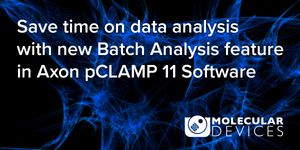 MAR 24, 2020
10:00 AM PDT
DATE: March 24, 2020 TIME: 10:00 am PDT, 1:00pm EDT The Clampfit software module is a useful tool to manipulate and analyze electrophysiological data acquired by pCLAMP™ software. Rece...
Opens in a new window
Opens an external site
Opens an external site in a new window