The objective of this study was to produce a fast, accurate, and precise method for analyzing terpenes in hemp using headspace/gas chromatography/mass spectrometry. Modern interest in terpen...
MAR 28, 2019
12:00 PM PDT
In 2018 with more and more consumers having access to legal Cannabis the interest in incorporating cannabis in to their lifestyles is becoming more and more prevalent. Len May, founder of End...
MAR 27, 2019
12:00 PM PDT
With the legalization process currently taking place in the US, finding new techniques for the fast, cheap, and comprehensive analysis of Cannabis sativa components has become a major point o...
MAR 27, 2019
12:00 PM PDT
The cannabis industry has realized that not just one or two compounds of the plant are important for a variety of medical indications. A plethora of metabolites, e.g. terpenes, flavonoids and...
DEC 06, 2018
10:00 AM PST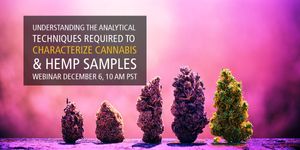 DEC 06, 2018
10:00 AM PST
DATE: December 6, 2018TIME: 10:00AM PDTNew analytical methods specific to cannabis and hemp matrices have been developed and qualified to allow cannabis laboratories to complete th...
Testing is performed on cannabis and cannabis based products to ensure both quality and safety. The types of assays conducted often fall into one of two categories; profiling and...
Opens in a new window
Opens an external site
Opens an external site in a new window