Labroots was founded in 2008 to create a virtual space for scientists across academia and industry to share their research and connect with one another. While we've been around for a while, the Covid-19 pandemic has brought virtual conferences to the forefront of the scientific community and made our platform all the more relevant in the STEM conferencing world, especially when it comes to poster presentations.
Scientific posters, especially those highlighting new research, are an extremely effective and important part of disseminating scientific knowledge. In one PDF you can share a visual overview of your hypotheses, methods, results, and potential for future research. At Labroots, not only can you do this virtually, but without a registration or submission fee.
Each of our Virtual Events are subject-matter-specific and feature virtual poster halls where you can showcase your poster and connect with a community of other scientists who share common interests.
Presenting your poster at a Labroots Virtual Event has many advantages. Below are what we at Labroots believe are the 3 most relevant to researchers across both industry and academia:
1. Audience & Reach
We get your poster in front of the people you want to see it: leaders in the field, colleagues, peers across the globe, industry professionals, and more!

The whole point of presenting at a conference -either with a poster or oral presentation- is to get your research in front of other people working in your field. Labroots has over 4.1 million registered users, with more signing up for our Virtual Events each year.
Networking – Not only do our Virtual Events have interactive Networking Lounges, but people viewing your poster can reach out to you directly within the poster hall itself by commenting on your poster, engaging in live chat, and asking questions that allow for meaningful conversations.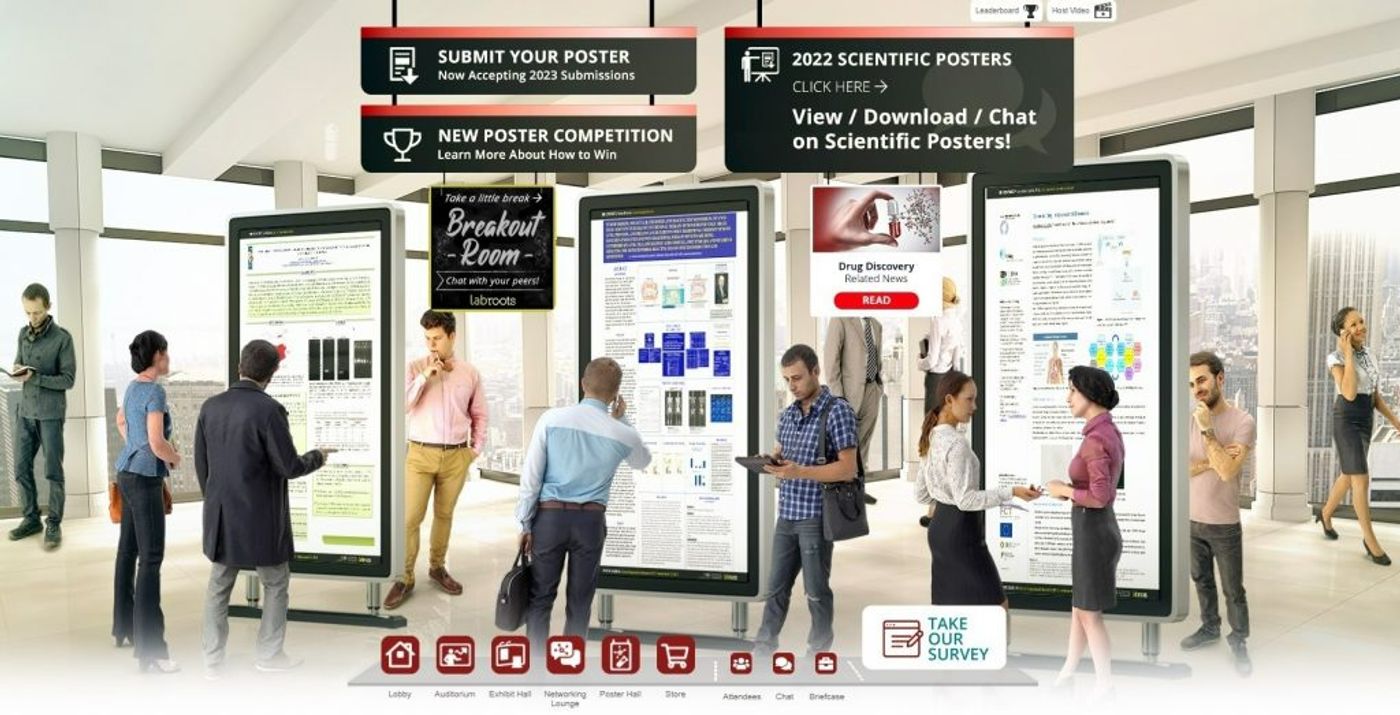 2. Poster Competition
Labroots now hosts a poster competition for each of our Virtual Events. The prize? Being featured in an article for our Trending News. So, how does this work?

Posters will be assessed and voted on by an anonymous board of Labroots conference organizers in the following categories: originality, innovation, impact, and organization.*
The Winning author(s) will be notified approximately one week after the Virtual Event goes live.
The winner(s) will then have the chance to tell their story to a specialist Labroots Science Writer who will write a feature on the winner(s) and their research.
This article will then be distributed to over 30,000 Labroots Newsletter subscribers and will also be highlighted on our social media pages to provide increased global reach and engagement for your research.
3. It's Completely Free!
Have we mentioned it's free? Free – as in no registration fee, no membership fee, and no submission fee!
Unlike other conferences that rely on membership and registration fees to operate, Labroots is able to operate free of charge for all of its users. Creating a Labroots user account is all that is required.
Submitting a poster to a Labroots Virtual Event is all pros and no cons: reach colleagues across the globe, be featured in a widely read trending news story written by a specialist, and do it all for free!
Check out our upcoming 2022 Virtual Event Schedule and see where your work fits.
Ready to submit your research poster? Click here!
*Each poster submitted will be automatically considered for the competition unless the authors opt-out. Sponsored posters are not eligible for inclusion in the Poster Competition.