In his 2018 TED talk "How to build synthetic DNA and send it across the internet," Dr. Dan Gibson highlighted a unique synthetic biology approach for fighting pandemics such as S...
Despite FDA-approved vaccines and antivirals, seasonal and pandemic influenza remains a serious threat associated with substantial morbidity and mortality. The present modalities and vaccine...
Since the establishment of reverse genetics techniques to manipulate the influenza virus genome, it has been possible to study viral molecular signatures responsible for virulence, and the ge...
Tumor heterogeneity is a hallmark of cancer and can have significant impact on identifying drivers, including those that may be therapeutically relevant. Although, the traditional sequencing...
The arrangement of chromatin inside the nucleus has long been recognized as a key element in genomic stability and an active participant in transcriptional control. With the development and d...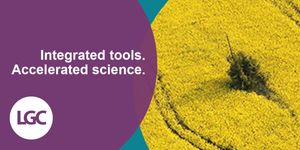 DATE: April 24, 2018TIME: 8:00AM PSTIn this talk we will cover basic principles of KASP® genotyping chemistry and designing assays that are specific to desired targets. We will go o...
Opens in a new window
Opens an external site
Opens an external site in a new window