With the passing of the 2018 Farm Bill legalizing hemp, farmers are allowed to grow hemp. Like any other agricultural crop, pesticides are applied to hemp plants to protect it from pests and...
What makes cannabis potency analysis different from other testing done on cannabis? It is the only test for which there is no "pass" or "fail" outcome but rather the r...
DEC 06, 2018
10:00 AM PST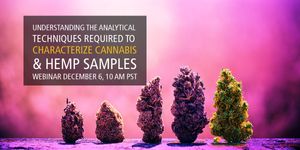 DEC 06, 2018
10:00 AM PST
DATE: December 6, 2018TIME: 10:00AM PDTNew analytical methods specific to cannabis and hemp matrices have been developed and qualified to allow cannabis laboratories to complete th...
Testing is performed on cannabis and cannabis based products to ensure both quality and safety. The types of assays conducted often fall into one of two categories; profiling and...
Opens in a new window
Opens an external site
Opens an external site in a new window