MAR 11, 2020
12:00 PM PDT
Brain machine interfaces (BMIs) aim to help patients with paralysis to use their recorded brain activity to control assistive devices. BMI research requires the collaboration of neuroscienti...
Normal behavior in any moving animal, including humans, relies on communication between motor systems that control movements, and the sensory systems we use to guide these actions. A critica...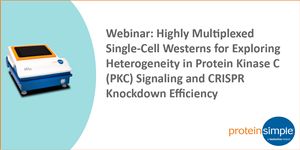 DATE: April 9, 2019TIME: 9:00 AM PDTWe will provide a general introduction to the Single-Cell Western Technology (SCW) and then present data from 2 ongoing projects from the Col...
Localizing and identifying neuronal patterns that generate pathological brain signals may assist with tissue resection and intervention strategies in patients with neurological and psychiatri...
Humans interact with their environment in countless ways and can switch seamlessly between activities. Even for seemingly simple tasks, a variety of sensory inputs and contextual cues are int...
NIH representatives from the BRAIN Initiative will be presenting an overview of the NIH BRAIN Initiative and describing funding opportunity announcements (FOAs) supporting impacts in human ne...
Opens in a new window
Opens an external site
Opens an external site in a new window