The regions of our genome responsible for encoding the genes that regulate our immune response are some of the most complex and polymorphic known. This complexity encompasses multiple types...
Theragen Bio. (TheragenEtex Subsidiary company) has been conducted the genome-wide research and the genome-based genetic testing services. From 2007, researchers of Theragen Bio. are collabo...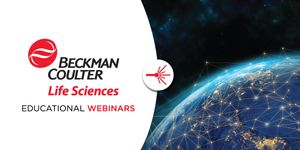 DATE: September 10, 2019TIME: 9:00am PDTAfter new users become familiar with flow cytometry instrumentation and learn how to set up the instrument and acquire data, the next topic to ma...
Recent improvements in sequencing chemistry and instrument performance combine to create a new PacBio data type of highly accurate (HiFi), long insert reads. Increased read length and improve...
APR 25, 2019
10:30 AM PDT
Recent evidence indicates that the immunoglobulin (IG) gene loci reside within the most complex and variable regions of the human genome, characterized by elevated levels of single nucleotide...
OCT 03, 2018
12:00 PM PDT
Decoding human genetic disease allows us to develop models of the pathology that can be directly tested with gene correction or targeted drug therapy. Dominant negative mutations are pa...
Opens in a new window
Opens an external site
Opens an external site in a new window