FEB 24, 2021 4:30 PM PST

High throughput purification is a critical step for antibody engineering and screening. Protein purification using traditional protein A resin columns is limited by throughput and a complica...
FEB 24, 2021 12:00 PM PST
Stable cell lines are critical tools of cellular assays in drug discovery and development. Over-expressing cell lines are needed to screen for hits, while functional cell lines are needed fo...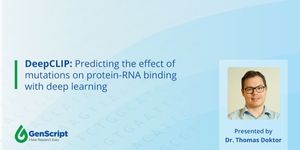 FEB 24, 2021 7:00 AM PST
Date: February 24, 2021 Time: 7:00am (PST) Nucleotide variants can cause functional changes by altering protein–RNA binding in various ways that are not easy to predict. This can affec...
FEB 24, 2021 6:00 AM PST
GenScript's new DNA Encoded Chemical Library (DECL) kit will revolutionize your pharmaceutical hit discovery and chemical biology research. In partnership with a leading technology exp...
JAN 27, 2021 7:00 AM PST
C.E. CREDITS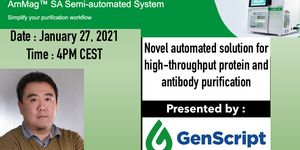 JAN 27, 2021 7:00 AM PST
DATE: January 27, 2020 TIME: 7:00am PST resin columns is limited by throughput and a complicated sample preparation process, which makes it challenging to extend to high...
DEC 03, 2020 3:00 PM PST
The presentation will provide a review of major emerging zoonotic virus outbreaks from Hendra virus in 1994 in Australia to SARS-CoV-2 in China 2019 and our latest findings on bat biology an...
SEP 17, 2020 3:30 PM PDT
COVID-19 has developed into a crisis of global proportions. COVID-19 is caused by severe acute respiratory syndrome coronavirus 2 (SARS-CoV-2). Key to SARS-CoV-2 therapeutic development is u...
JUN 24, 2020 8:00 AM PDT
C.E. CREDITS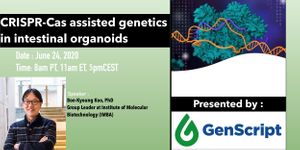 JUN 24, 2020 8:00 AM PDT
DATE: June 24, 2020 TIME: 8:00am PT The identification of LGR5 + intestinal stem cells helped us to understand various aspects of adult stem cells and led to the establishment of primary 3D...
JUN 17, 2020 6:00 AM PDT
With more than 6 million infections and more than 300,000 deaths (as of end of May 2020), the current COVID-19 pandemic has led to large scale lockdown around the world to prevent further sp...
JUN 03, 2020 3:00 PM PDT
Neoantigen based personalized immuno-oncology drugs are a relatively new therapeutic avenue that have shown strong anti-tumor efficacy in the clinic. Neoantigen peptides have been widely rep...
APR 02, 2020 11:30 AM PDT
Sean Taylor will be presenting on the following: Title: COVID-19 infection mechanism, rate of infection and tools for testing and monitoring the disease spread Abstract:Since COVID-19 was fi...
Opens in a new window Opens an external site Opens an external site in a new window